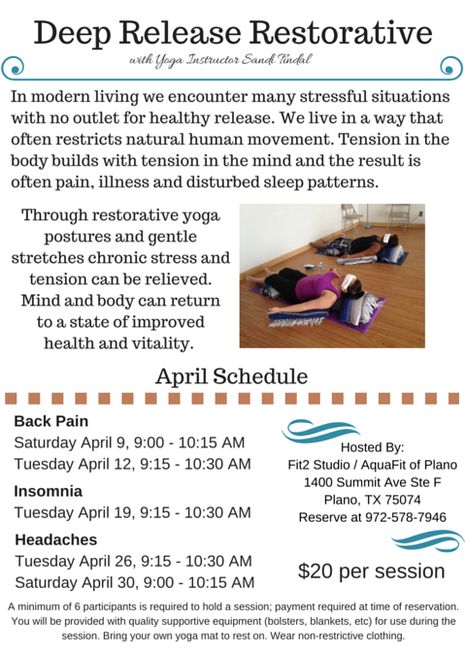 Happy Spring!
I have been blessed and hope you have been too.
Spring brings about a sense of renewal and interest in trying something new.  For the past two months I have had the honor to share the practice of restorative yoga to the community. For many students, this was a new experience - a new way for them to approach the process of self care. A new way to practice self-love without being selfish. I was tremendously blessed to be able to witness students coming together for the first time and be able to, in a room full of strangers, completely relax.
I've often wondered if what ails us may start to turn around by simply connecting to a state of true relaxation. Even through we are surrounded by many modern conveniences, we still encounter aggravating circumstances and the stress we hold onto from those things begins to have a deleterious effect on the body and the mind. It begins to negatively affect our health, our behavior and our interactions with others. Could it be that our true self that wants to freely express joy, peace and love to others is wrapped up in a thick cloud of needless suffering held onto by the body?
I was amazed after these restorative yoga sessions to see these students from all over the metroplex - Garland, Richardson, Plano, Allen and Wylie - who didn't know each other beforehand open up after class and interact with gentleness, kindness, and good-heartedness towards each other. An unmistakable warm and vibrant energy. You could just see that there was finally a sense of freedom from something and in that freedom a willingness to move forward towards something new.
My hope with the April deep release restorative series is that anyone who has been needlessly suffering extensively from back pain, insomnia and chronic headaches (tension or migraine) finds relief and even freedom from their pain. That they feel empowered to manage and overcome their difficulties. That in the simple practice of relaxing, letting go and trusting they get closer to the light of love and with confidence journey on towards the new.