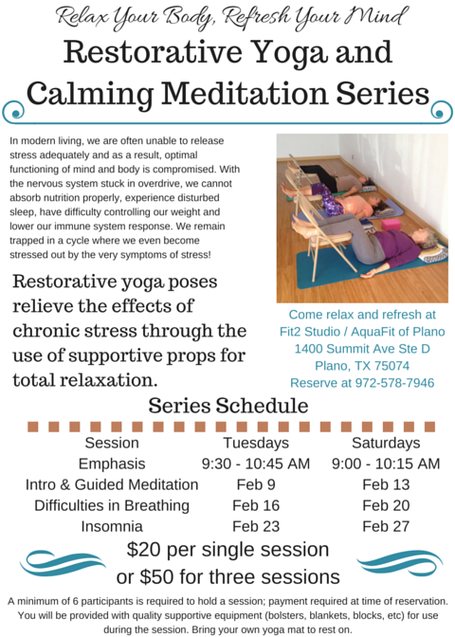 "There are no riches above a sound body."
-Ecclesiastes 30:16
Cheers to my Garland lunchtime yoga friends, to the Garland community and beyond!
I'm pleased to offer a special restorative yoga and calming meditation series in Plano during the month of February. This practice is near and dear to my heart and I'm very blessed to have this hosted by AquaFit of Plano in their beautifully peaceful studio space. Restorative yoga differs from a typical yoga class in that the emphasis is on total relaxation of the body. We accomplish this by specific positioning and supporting the body generously with comfortable props. Due to being blessed by continuing students in Garland (and the support of my dear husband), I've been able to invest in the equipment required to share this fabulous practice.
I invite you to join me. Let's experience a way to completely relax and refresh your whole being together.
From my heart to yours ~ Namaste.